CASE STUDY

Enterprise
SaaS Web Application –
Condition Monitoring 
THE OBJECTIVE
The objective of this project for a large construction-equipment manufacturer was to deliver an intelligent predictive software solution of the decision process a Condition Monitoring Analyst [CMA] uses to understand the actions, variables and input that go into managing events and then converting them into recommendations. The end goal is to capture the process and data that goes into these decisions so that they can be automated in the system.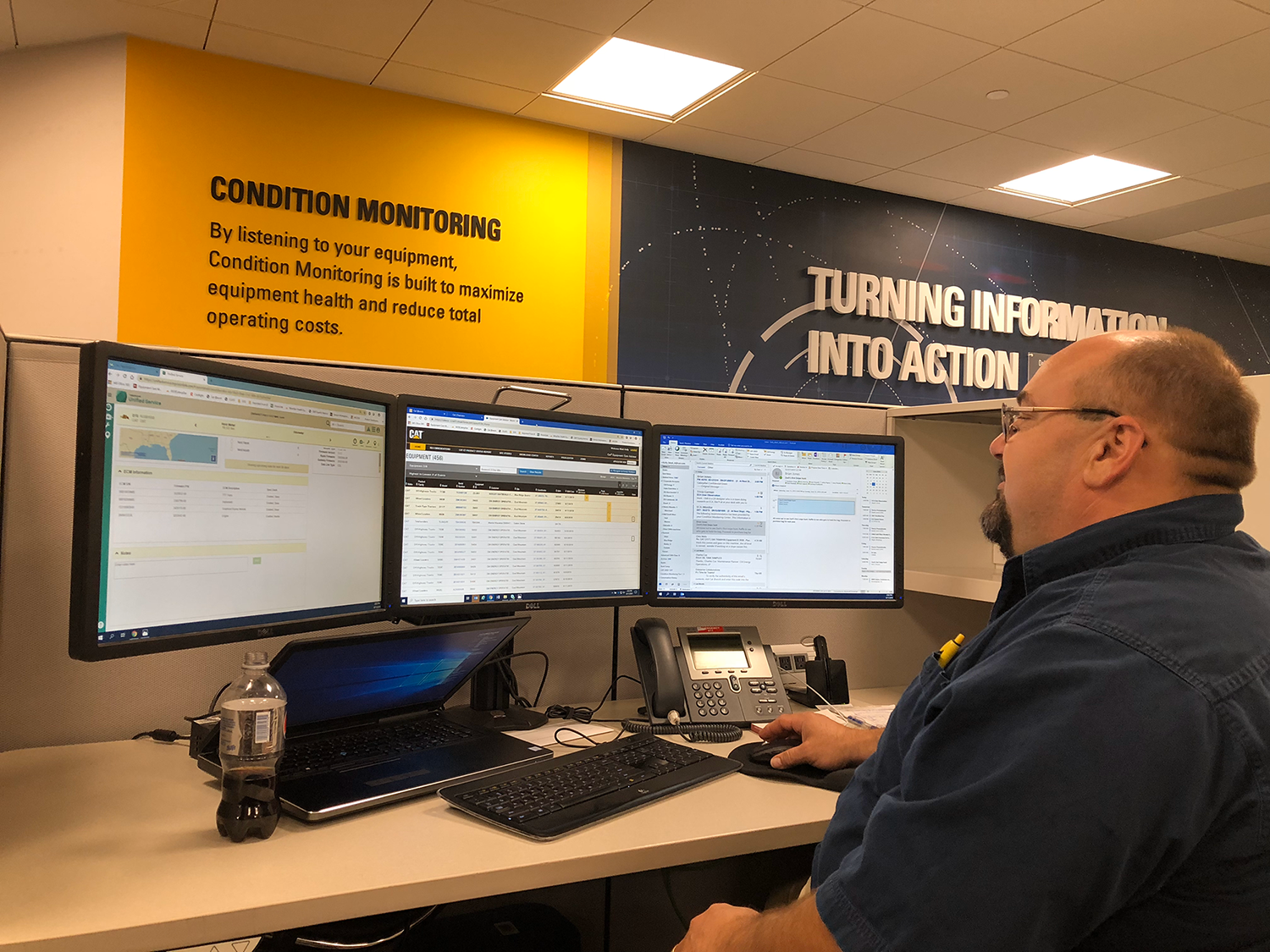 THE CHALLENGE
The success of this enterprise app relies on one simple metric, ADOPTION. Our Product Development team needed to be cognizant of the challenges faced by end CMA users and how they will connect with the new system. At the end of the day, if our technology changes do not add value to the employees' lives, then the product is not a success.
BUSINESS GOAL
"Providing the right info at the right time to the right people"
– Bill H. , Product Manager
THE SOLUTION
The solution was to make the System more intelligent to the user. Condition Monitoring advisors need to be able to quickly identify existing and pending issues that need to be addressed. To accomplish this, we redesigned the Product from an Events & Problems tools to a Symptoms Diagnosis & Recommendations Web  Application Engine.
Our Main Problems to Solve
How do we manage all of this NOISE?
How do we take that data and create a CASE that is meaningful and actionable?
How do we complete the FEEDBACK loop to get data back to the System?
The first phase of my Design Process was to create a User Experience Strategy RoadMap. My USER Experience Strategy is a shared holistic vision for what a product or service will be from the end user's perspective. Before our design team started creating any of the product's features or interface, I lead our team in evaluating ideas to determine what met both user and business goals most effectively.  I believe that defining a user experience strategy up front is critical to making sure that all design decisions map back to a vision that is supported by research and that has defined success criteria.
My UX Strategy for this project included:
Evaluating the current user experience for the existing legacy application.
Analyzing features & attributes from competing products and services.
Identifying opportunities that exist to improve this experience.
Analyzing characteristics of my target audiences.
Determining what is the Definition of success for this project.
Determining what from the business' perspective will make this product or service successful.
Deciding how will we measure success and What would be the big win.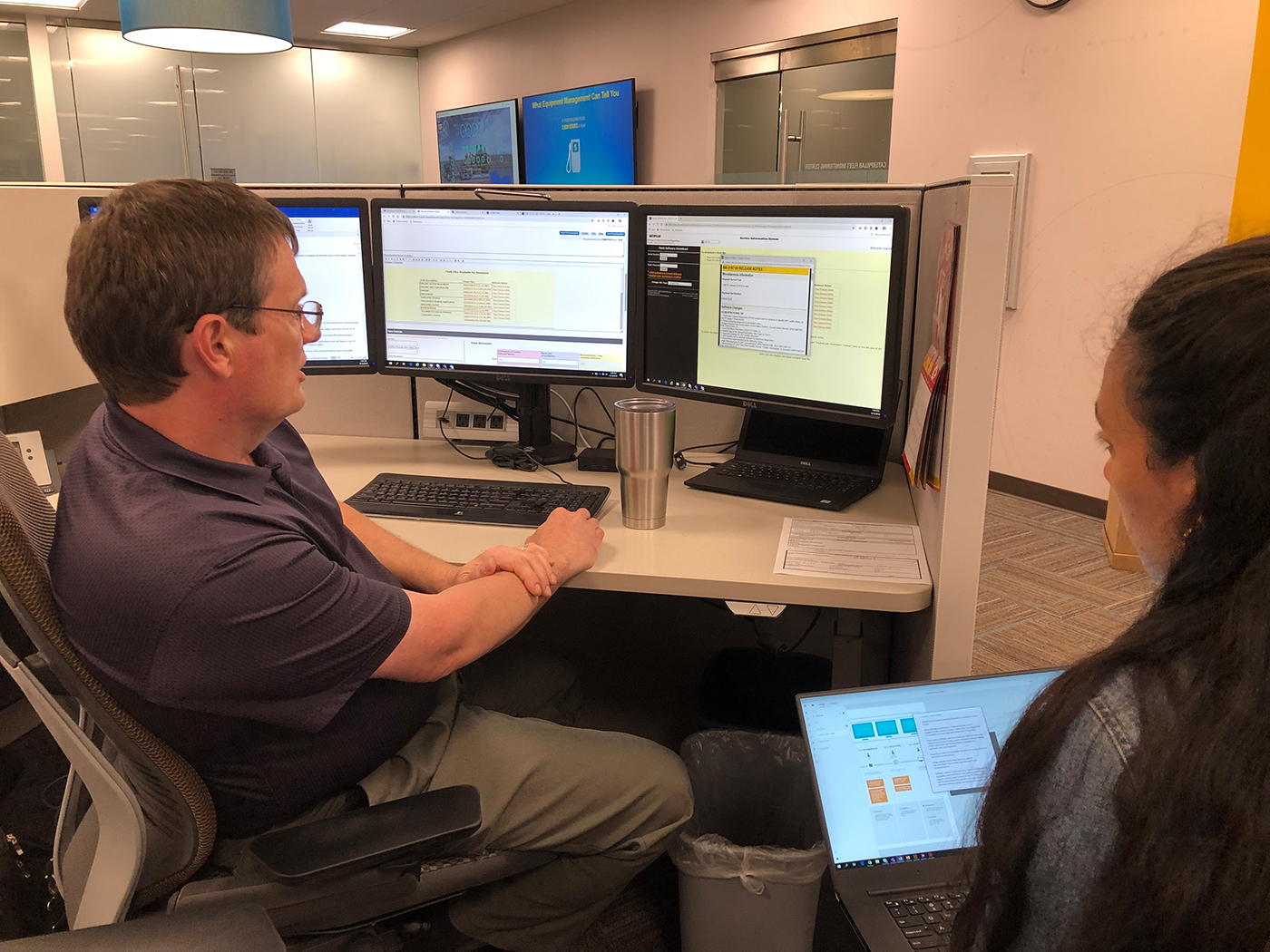 02. Discovery & Research
BUILD A story Through User Research
Since this enterprise application is built to suit the needs of a wide variety of people across various functions, the early stage of user research was extremely crucial. This required me as the principle UX designer to spend time with many users to be able to understand the real pain points, underlying usability challenges, new opportunities while balancing the organizational goals.
In addition, part of research also included understanding the current legacy product pain points, the industry, different competitors and business stakeholders objectives.
Only after deriving the insights from all the research data, could we as a Product Team be able to move forward with our design.
The User Research & Analysis Deliverables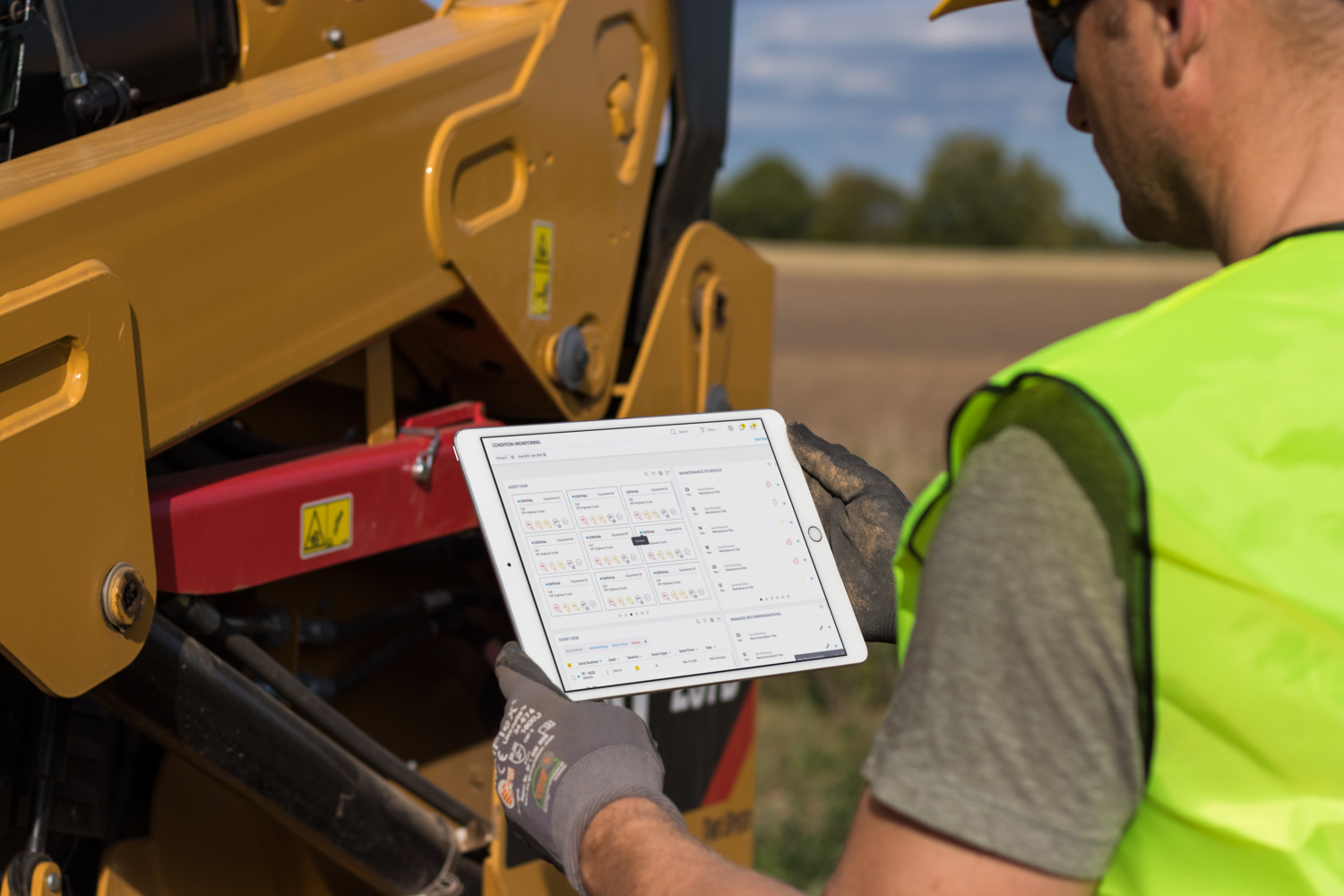 User Interviews
Conducted 16 User Interviews both remote and on-site.
User Flow Analysis
The main path a user follows through an application.
Customer Journey Map
A customer's journey through your product. 
Personas
Created a Main and Secondary Persona
Value Complexity Matrix
A value matrix based on our user interview data.
Wire Flow Map
A map of the site flows and external interactions.
User Research Interviews
I conducted 16 user interviews both on-site and on Zoom video calls. Each participant  had various client demographics in terms of heavy construction machinery, mining equipment and fossil fuel industry equipment.
Research Questions
We are seeking to learn:
VALUE PROPOSITION: What's the CMA's END GOAL?
Why would they pay for this product? 
How does the current system help your workflow?
Do the recommendations help you in your business goals?
Does the current problem tool help you attain your business goals?
How does this tool help you attain your business goals?
Methodologies
Observe – Contextual Enquiries
Observe – Task Analysis
Contextual Inquiry, also known as ethnographic study, is at its heart a research technique which takes place in the environment where the user is engaged in the problem space.
We observe users performing tasks within the problem space, and probe them about their behaviors, to understand their mindset, problems, and opportunities better.
Engage, Customer interviews are 1:1 interviews conducted with the people that operate within the problem space we wish to explore.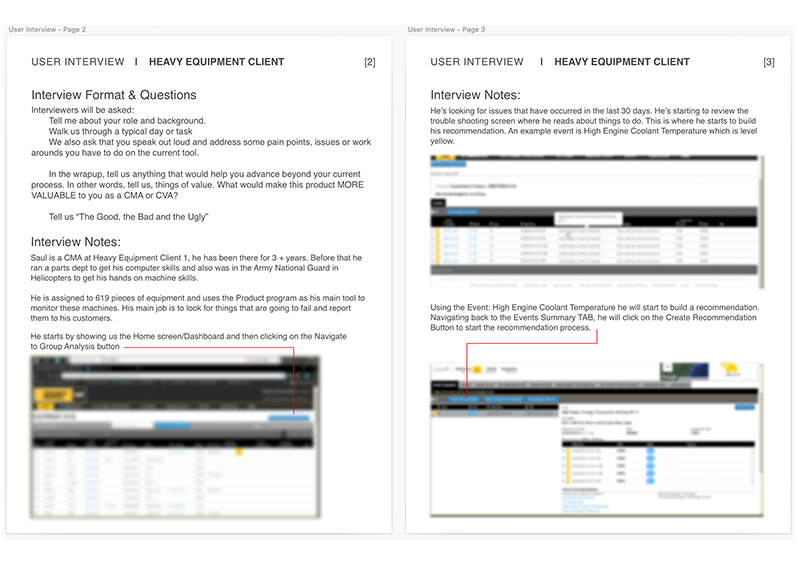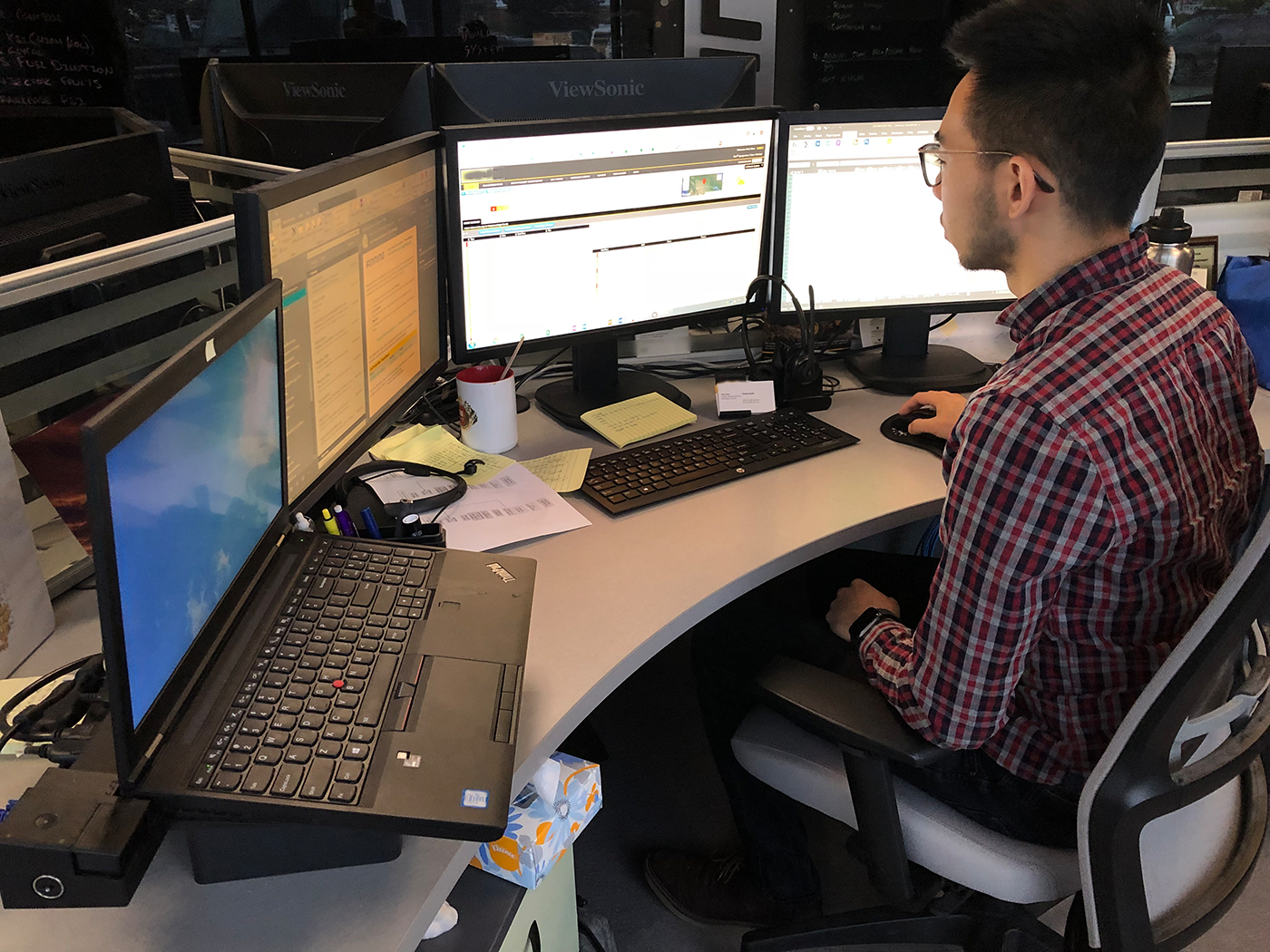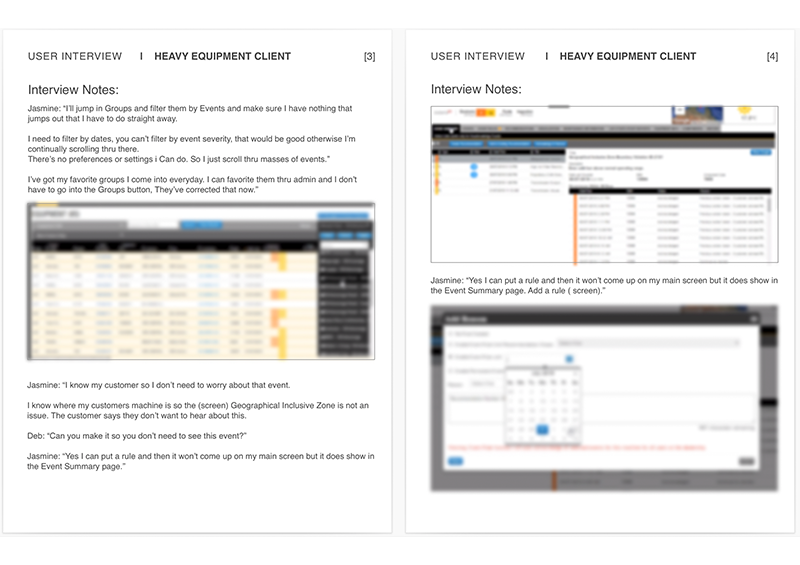 User Flows
A User Flow is the main path a user follows through an application. They are like mini user journeys. The flow can branch out into many a non-linear paths. By visualizing this path we saw problems, pain points and possible solutions for optimizing the user experience.
The complexity of the Client's current CM ( Condition Monitoring) product was such that I suggested we create a baseline Task Flow Analysis. The goal was to understand the current situation user's had to work in and then  to optimize users ability to accomplish the main task with the least amount of friction. This helped a great deal in our Design meetings to  think through the design before building out the product.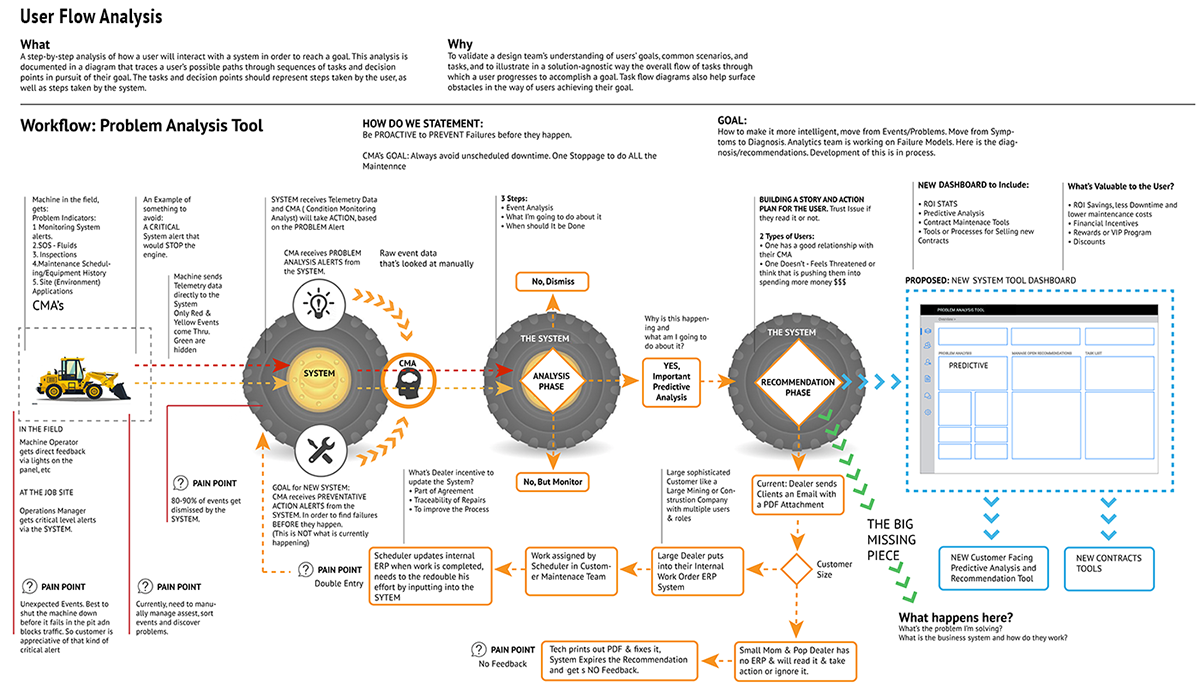 This Journey Map shows both of our Personas going through their task to achieve their optimal goals. It also shows the Product LifeCycle and the final Customer EcoSystem.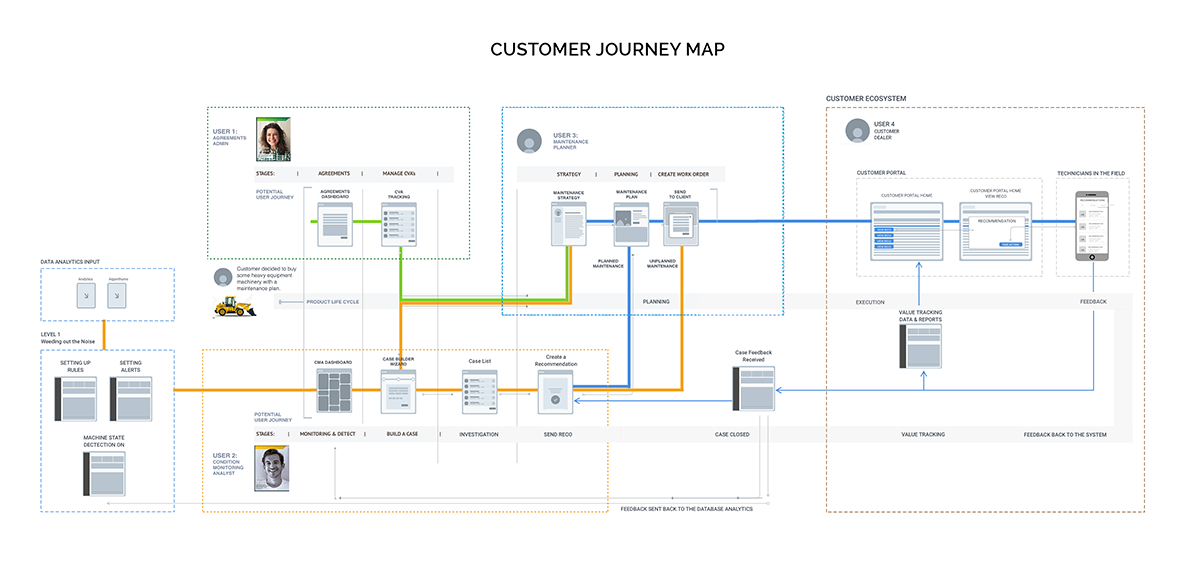 03. User Research Analysis
Synthesize our Data
The aim of the Analysis phase is to draw insights from data collected during the Research phase. 
Capturing, organizing and making inferences from the "what" can help UX Designers begin to understand the "why". Communicating the designer's understanding back to end-users helps to confirm that any assumptions being made are valid.
At this point, we now have identified a clear list of patterns based on our user research. We did this by classifying our user research findings in 3 categories:
• User goals (things they'd like to obtain)
• User pains (things they have trouble with)
• User tasks (things they have to do)
Then we defined and clarified actionable point of view (POV) or problem statements.
A POV statement can be defined as [User/Persona] + [Need] + [Insight]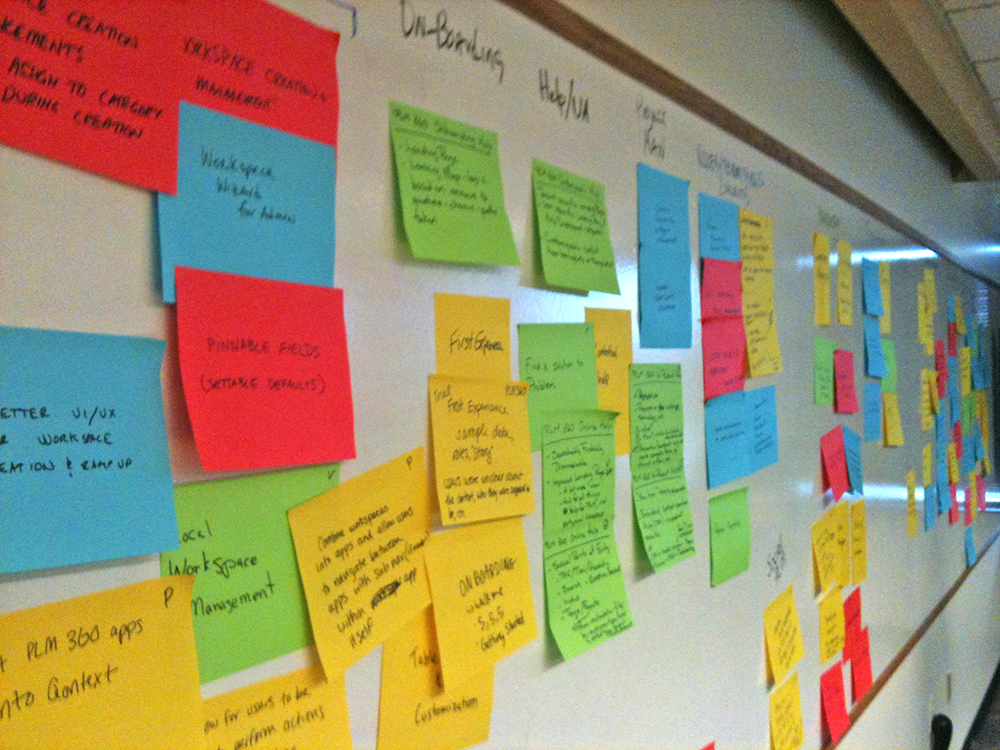 Once I gathered a collection of well-researched information about the users, I had a good idea about who they really are. This is what Personas are all about. For me, research-backed Personas represent the last piece of the Discovery puzzle and will guide all design decisions going forward.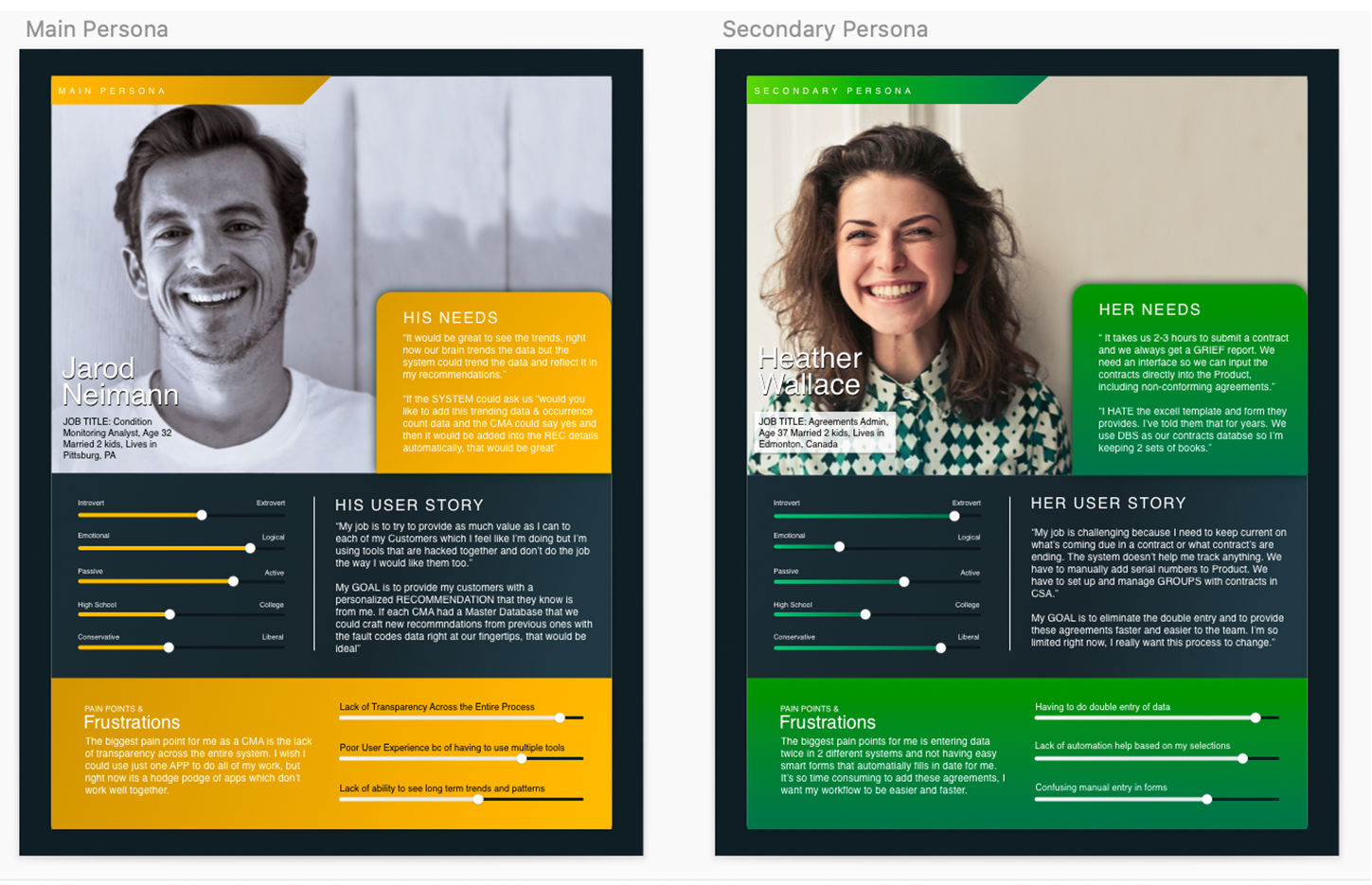 As its name implies, value–complexity matrices plot the potential value of a product feature alongside the complexity of implementing such features. The business value of a project can be categorized as either high or low, whereas the implementation complexity of a project can be represented as low or high.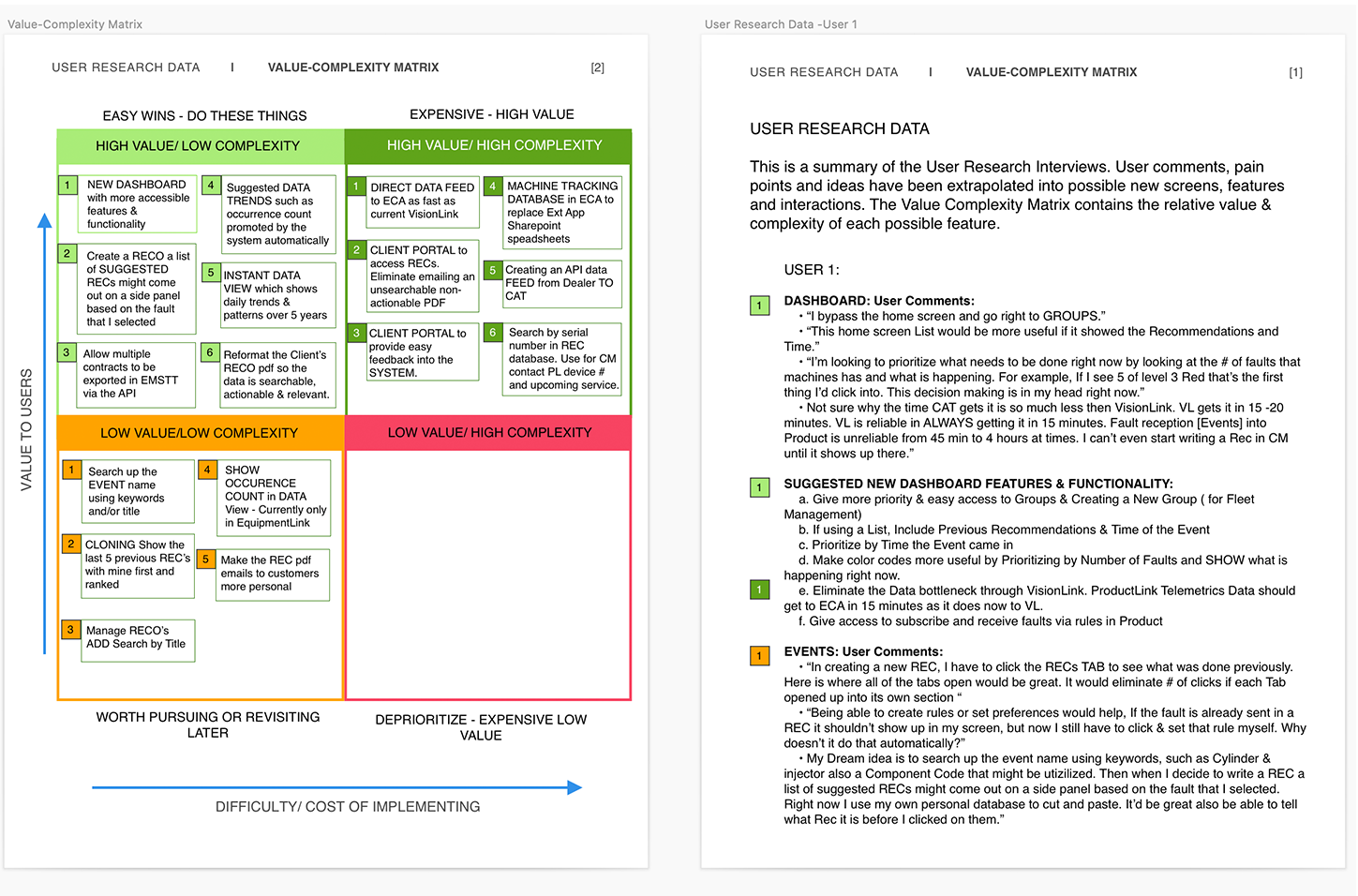 Again because of the complexity of the systems we were trying to link together, I created a Wire Flow Map.  This particular one combines a wireframe-style of page layout designs with a simplified flowchart way of representing phases of the product journey and the interactions at each of those areas.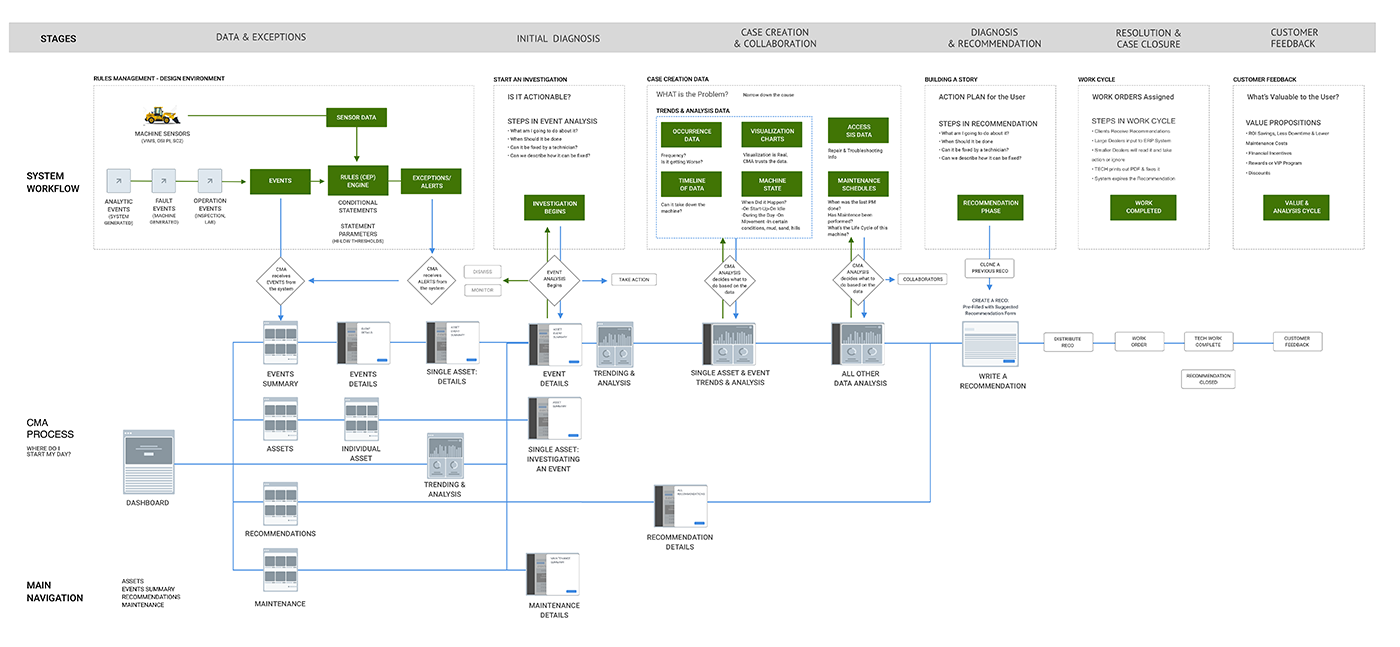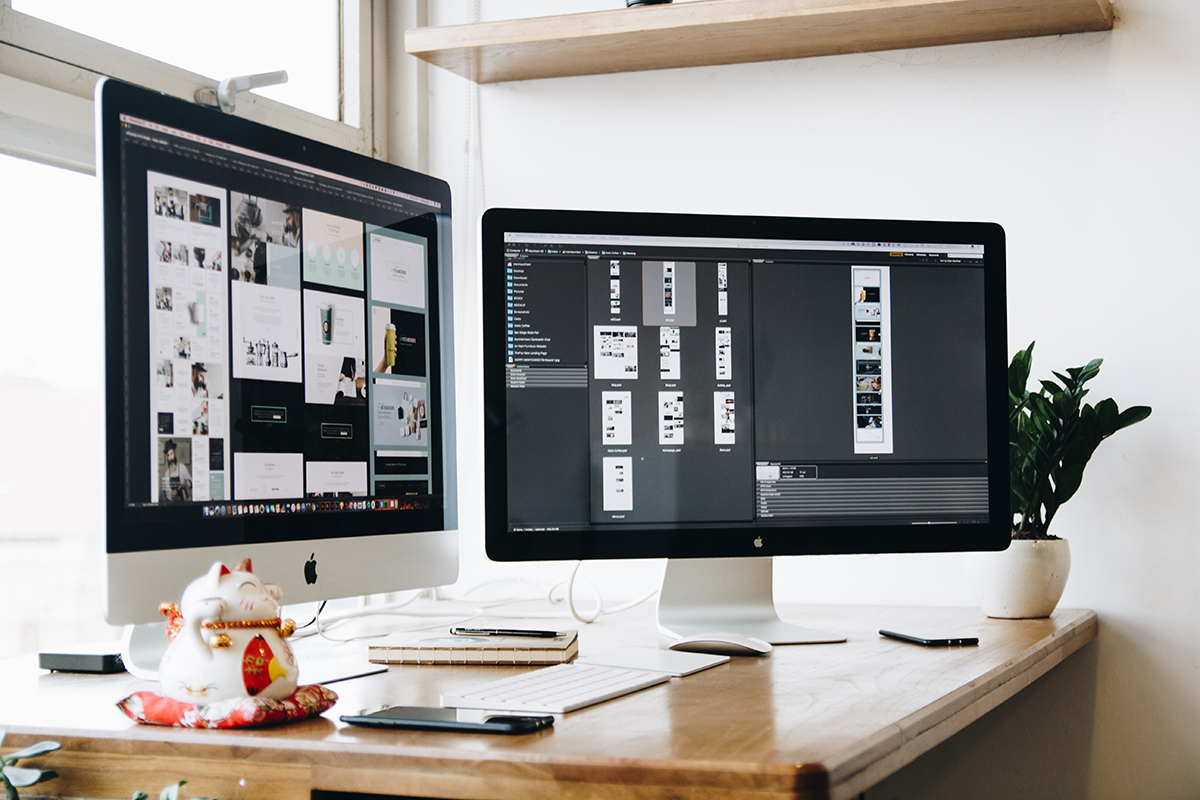 04. Design
The DESIGN PHASE
The Design phase of a UX project is collaborative (involving input and ideas from different people) and iterative (meaning that it cycles back upon itself to validate ideas and assumptions).
Building on the user feedback loop established in previous phases, the premise of the Design phase is to put ideas in front of users, get their feedback, refine them, and repeat. These ideas may be represented by paper prototypes, interactive wireframes, or semi-functioning prototypes, all deliberately created in low-fidelity to delay any conversation relating to graphic identity, branding or visual details.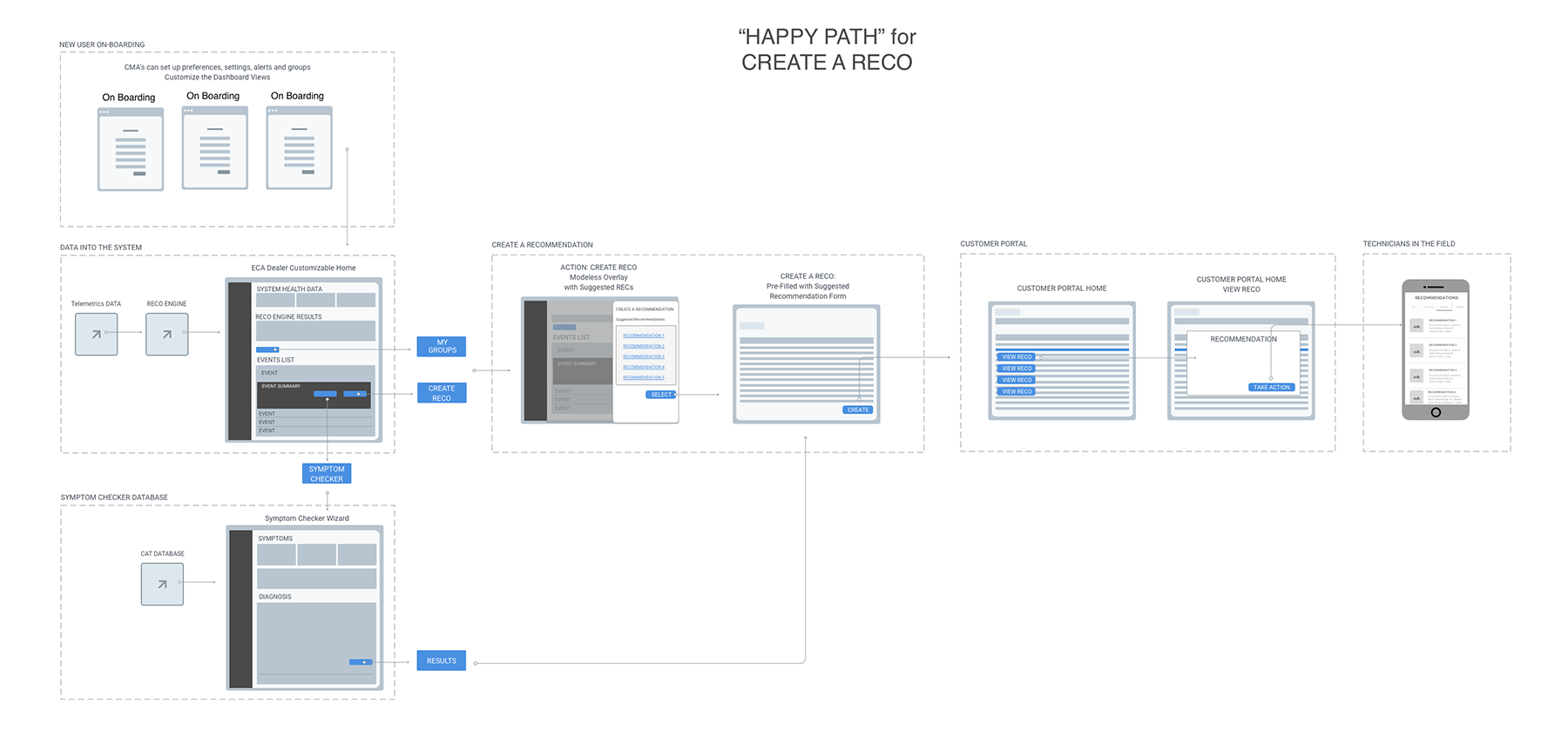 A Create a Recommendation Flow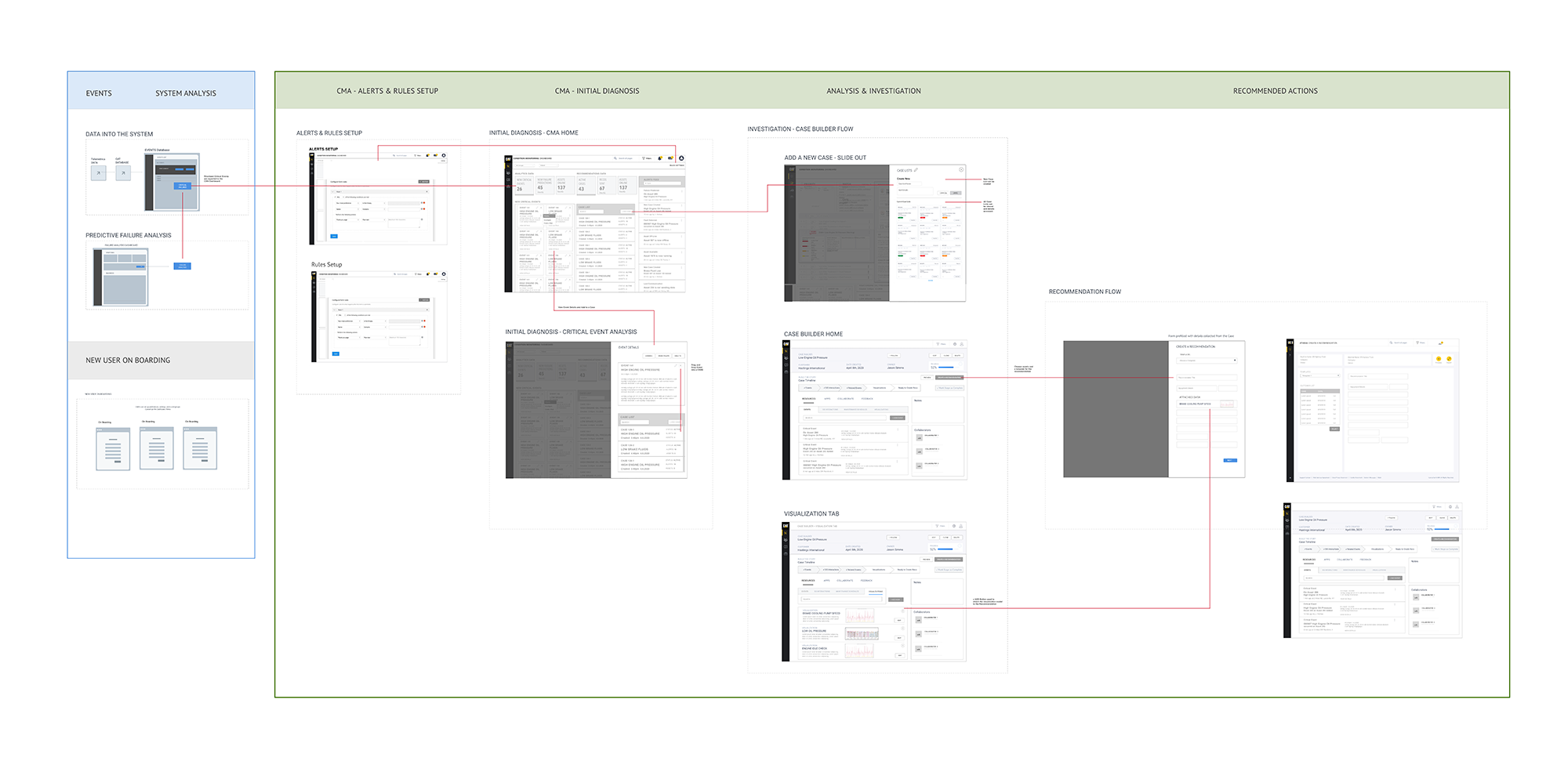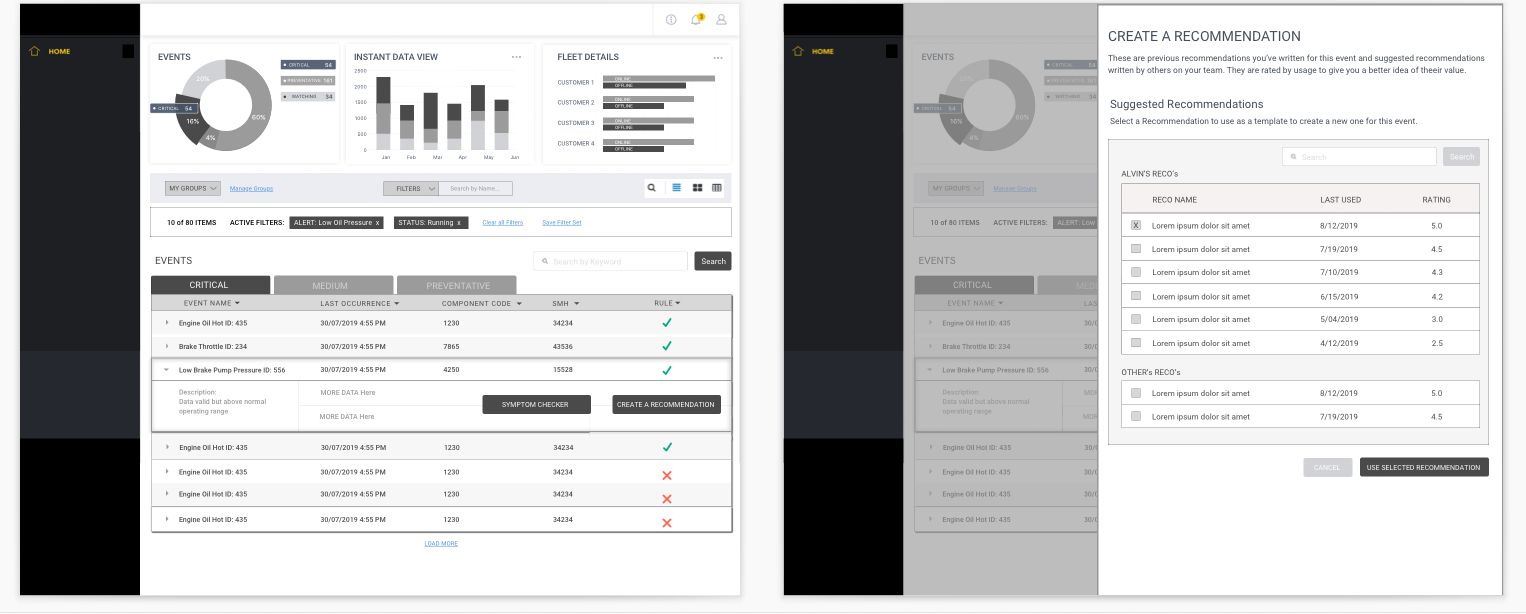 Agreements Panel Wire Frames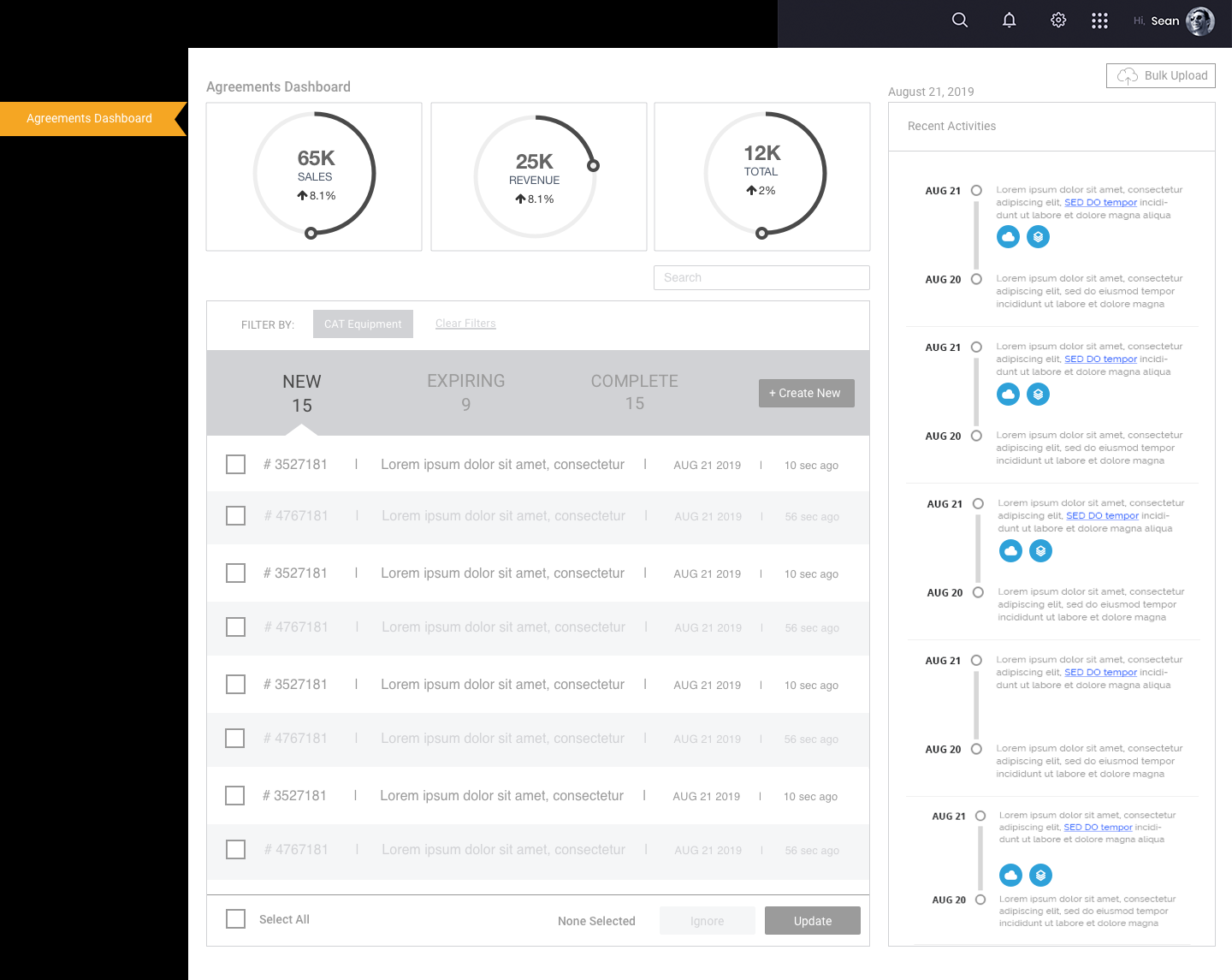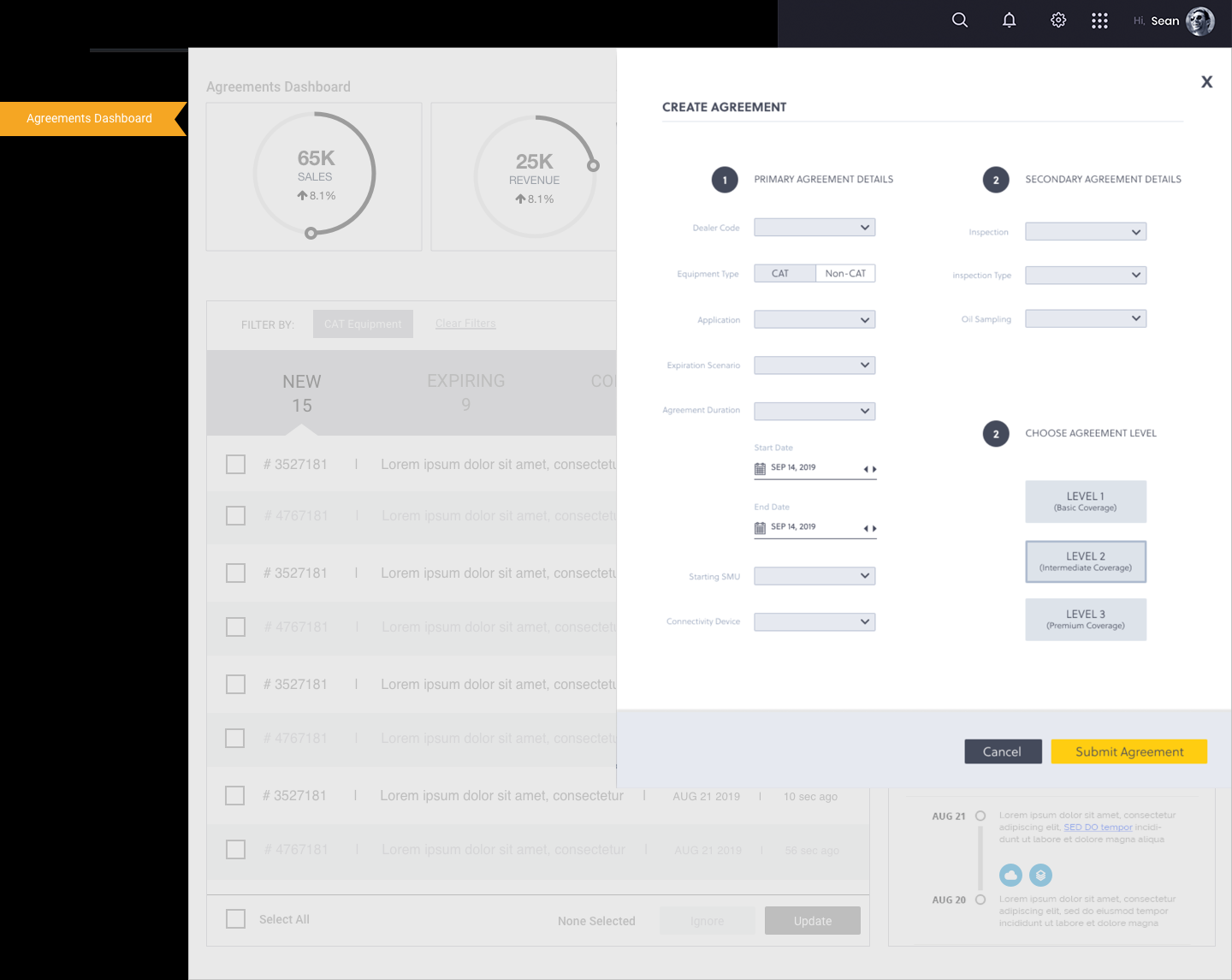 High Fidelity 
Dashboard Design