Case Study – WordPress Plugin Design
Project Description
The Challenge:
Provide a simply & easy solution for user's to create their own vacation rental website on the WordPress Platform which also integrates the World Village reservation tools, including real time availability calendar & online booking.
What I Did: 
Customer research, surveys & contextual interviews
Industry & Competitors analysis
Best practices & patterns creation
Brain Storming, Creating Optimal WorkFlows
Design, Wireframing & High Fidelity Mockups
Technical Specs & Integration with Developers
Beta & Usability testing & QA
Client World Village
Date May 2014
Platform: WordPress Plugin integrated with the World Village Cloud Platform
Actions & Deliverables
1. User Research
In the course of working with our small business clients at World Village, we found that their biggest obstacles to using our system was creating an easy to use website which integrated seamlessly with our reservation platform. I ran a series of interviews with select clients & through the information gathered in this research, we begin to craft a Scenarios & Storyboards.
2. UX Best Practices
I researched Best UX practices of other Word Press Plugins & current competitors in the vacation rental space who were offering their own versions of Plugins. I Formulated a set of guidelines to be followed:
a. Use WordPress Standards
b. Test Everything
c. Document Your Code so other WP Developers can use it.
d. Design for your Grandma..Make it Simple, Simple, Simple
e. Play nice with Other Plugins, see if there are any conflicts with other Plugins in our niche
6. Design Concepts for Interactive Widgets
Interactive Widgets are the key to our custom WordPress Plugin. Working with my development team, we designed & crafted 5 different widgets including a Customizable Photo Slider with thumbnails, a Custom Custom Search & Calendar Availbility which is the heart of our vacation rental system, this tool provides Real Time 24/7 Property Availability to your website. Also RSS Feed & a Property Map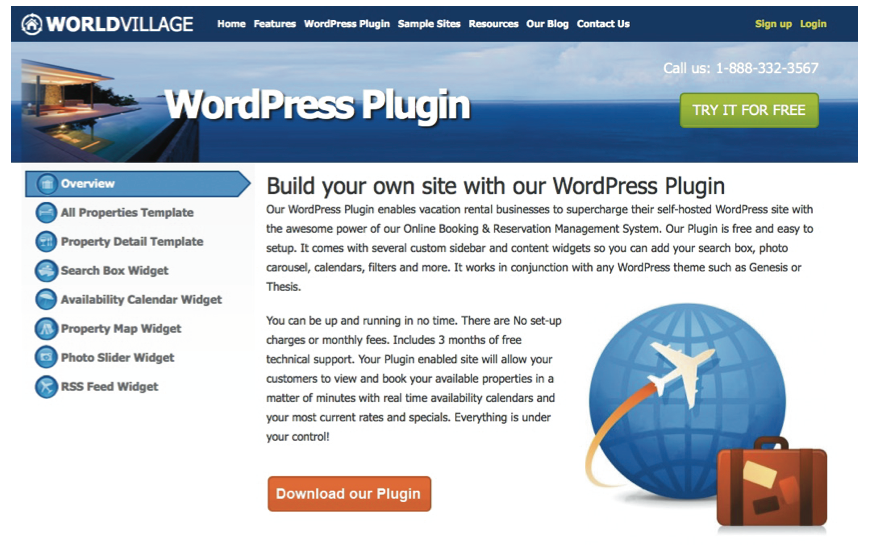 11. Plugin Download Page
After the initial development was completed, We sent the Beta version of the Plugin to our select test group for feedback. I conducted iterative usability tests to fine-tune the interactions & bug fix the workflows. We got amazing response to the ease of use & connectivity of the workflow process.
12. Completed Product Design
Once all of the testing, QA & bug fixes were completed we made our Plugin available for download to the public. Its accessible on WordPress.org Plugins page as well. We've seen a 28% increase in customer signups since launching the Plugin.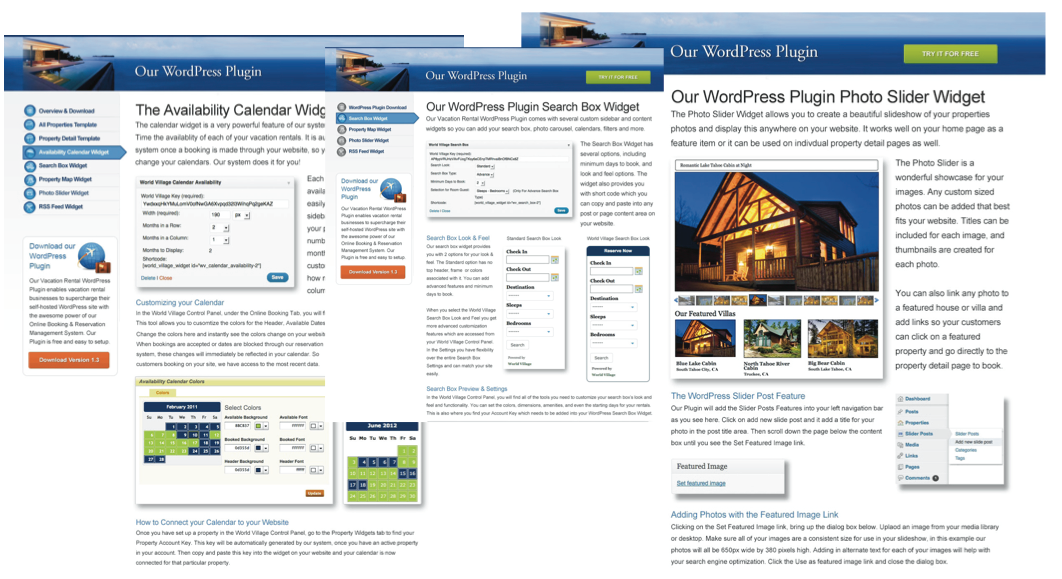 Outcome
The new streamlined vacation rental website setup process utilizing the WordPress Plugin 2.0 has increased  new customer signups by 28% in the first month alone.
Tangible Results for our Customers:
• An easy to setup solution for our customers wanting a self hosted WordPress website for their vacation rental business.
• Replaces our Plugin version 1.0 which was not optimized for the WordPress framework
• A fully supported WP Plugin which uses WP Standards, documented code, & it work well with other plugins.
• This Plugin enables you to fully configure our 5 Premium Widgets into a customized vacation rental website.
• No infrastructure needed, zero deployment costs.
• Gives our customers and us a competitive edge against our competitors.